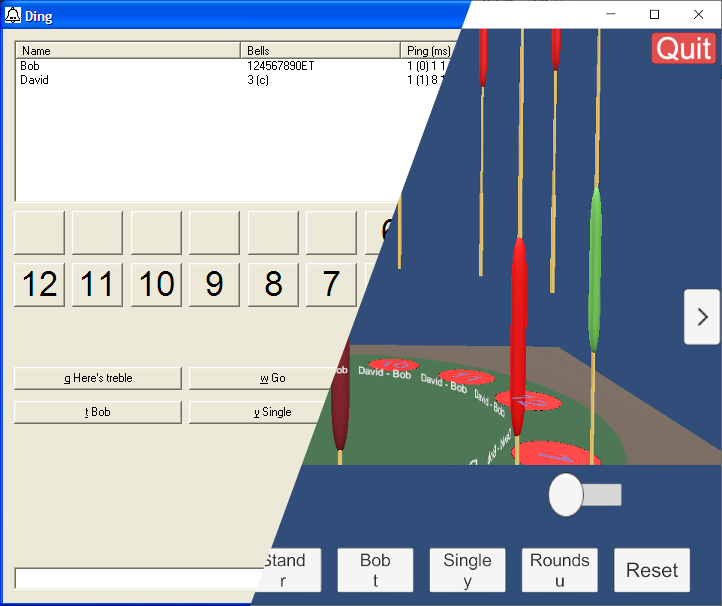 Installing on Windows - Details
This page provides further details of how to download and install Ding Standard, Bob and Ding Unity on Windows. Exactly how this is done depends on the version of windows you are using. Please note that Ding Standard will only work on a Windows PC / Laptop. Ding Unity will also work on on Macs, Linux, and Android tablets and phones.
Norton 360
If you have Norton 360 installed, then it will stop you installing anything downloaded from the Internet that it doesn't recognise. To get around this, right-click on the Norton icon in the system tray (next to the clock in the bottom right of the screen) and select "Disable Auto-Protect". Then in the window which comes up, select to disable it for 15 minutes. This is long enough to download and install Ding and Bob. You don't need to do anything when you've finished - Norton will re-enable itself once the 15 minutes is up.
McAfee
If you have McAfee installed then it will allow you to install Ding, but will then stop you from running it. So, once you have installed Ding, Open the McAfee centre, and go to PC Security (or PC Settings). Under this you will find Real Time Scanning. Click on this. Here there is an "excluded list". Add Ding Standard / Bob / Ding Unity to this list. They are likely to be in either C:\Program Files (x86)\ding or C:\Program Files\ding, unless you changed this when you installed them. If you need further help, it can be found on the McAfee Knowledge Centre.
Windows XP
Generally installation in Windows XP is simple, just download and run the installer. If you are having any problems with this then it is probably due to security software you have installed, and how to resolve it will depend on the software installed. In most cases, it will just come up with a warning when you install or run the software, needing you to give it permission to continue.
Windows 7
Click to Download Ding or Download Bob. The download appears in the bottom left of the browser - see arrow below.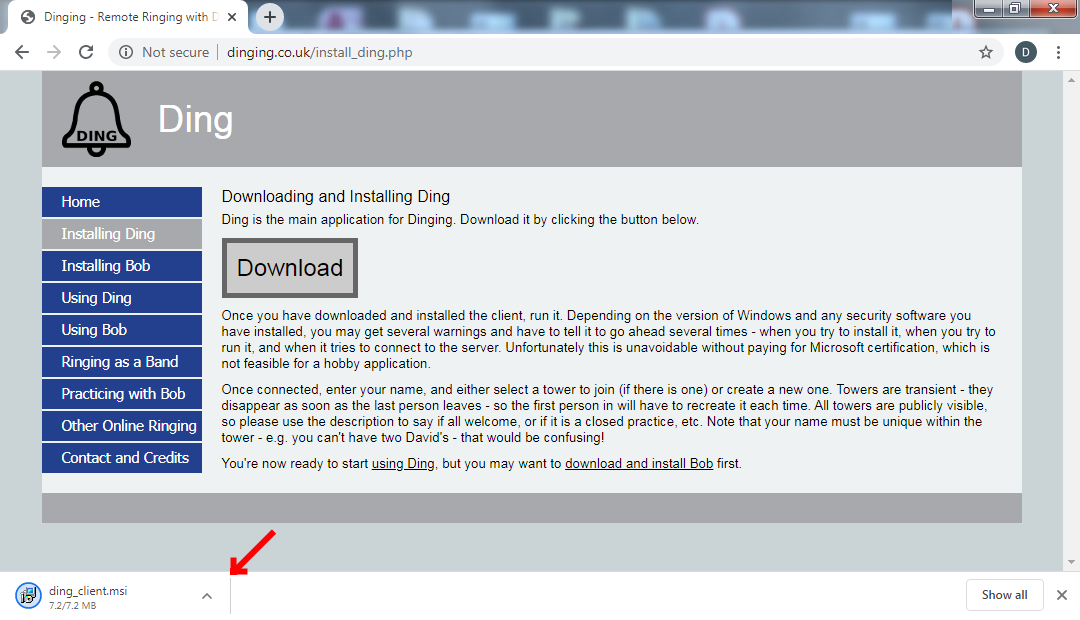 Click on the download (as pointed at by the arrow) and it will run. You will probably then get a warning.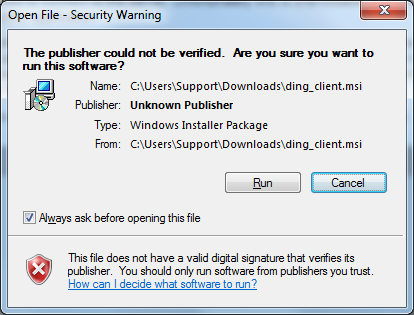 Click the "Run" button and the installer will start.
Windows 10
Right click to Download Ding or Download Bob. A menu appears.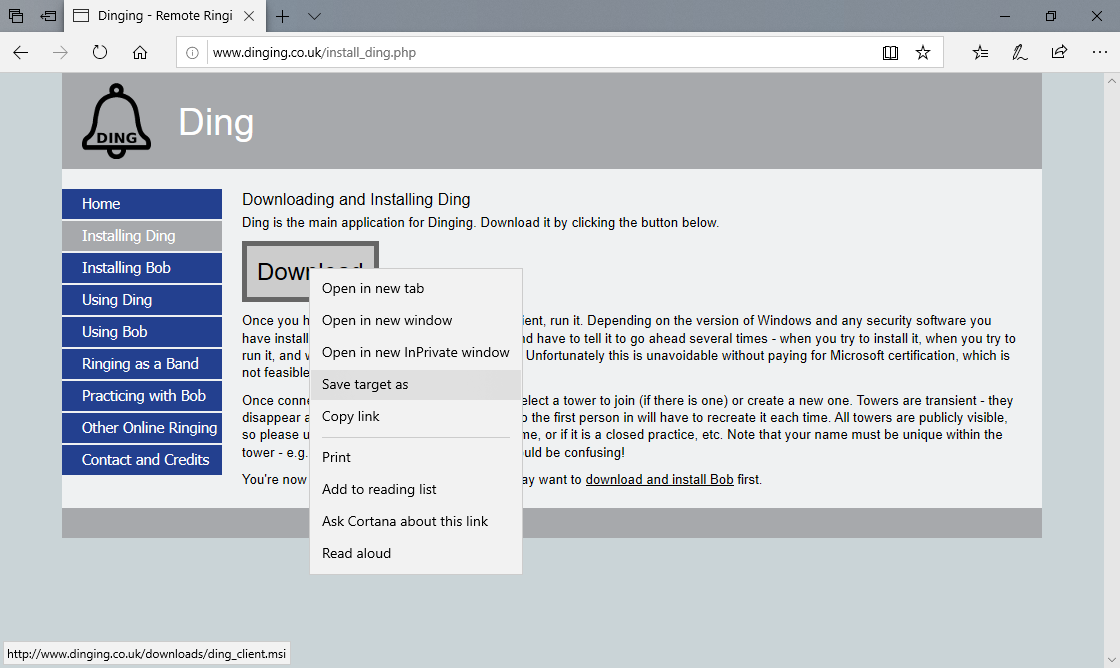 On the menu, select "Save target as". Note that the wording of this may be slightly different in different web browsers. This will bring up a box asking where to save it.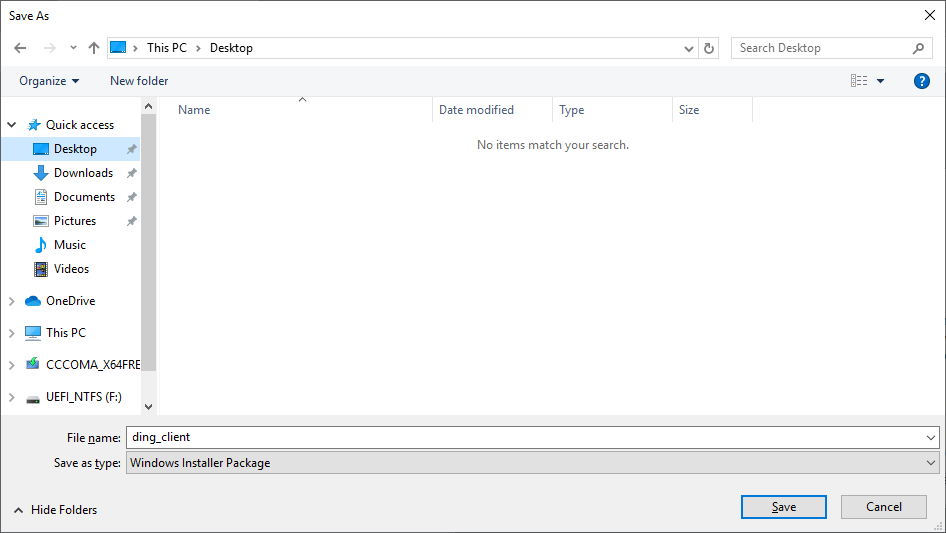 Select "Desktop" on the left hand side, and then click the "Save" button bottom right.
Now minimise the web browser, and you should find the install icon on the desktop. Right click on this, and on the menu which appears, click "Properties".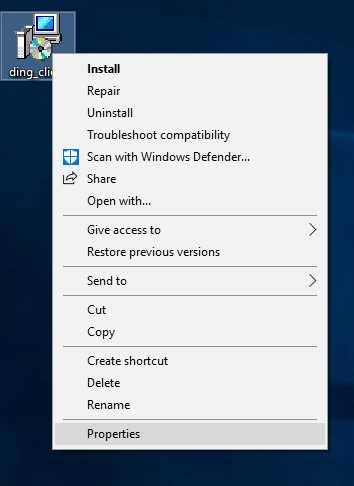 The properties box will appear.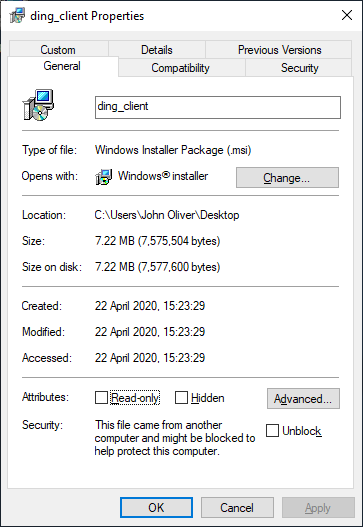 At the bottom of the box, tick the "Unblock" tickbox. Then click OK to close the box.
Now double-click the icon on the desktop and the installer should start. You may get a warning appear asking if you want to allow it to make changes to your computer. Click "Yes".
Running the Installer
This should be simple enough that you can do it without instructions, but just in case... Note that at any point in the process, you may get an extra popup appear asking if you want to make changes to your computer. If so, click "Yes".
The following graphics are from the Ding Standard installer, but the process is the same for Bob and very similar for Ding Unity.
Here is the first page.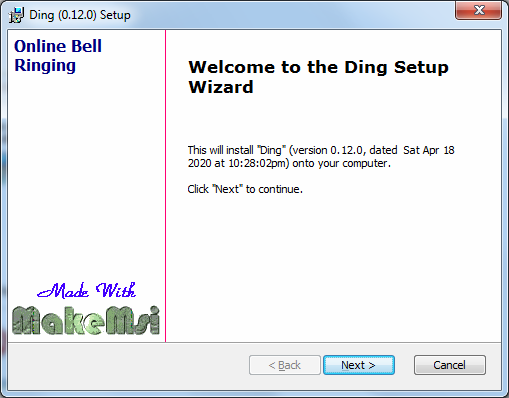 Click "Next >" to get to the second page.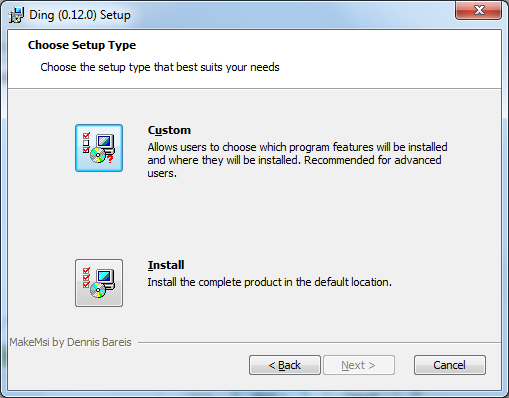 Click "Install".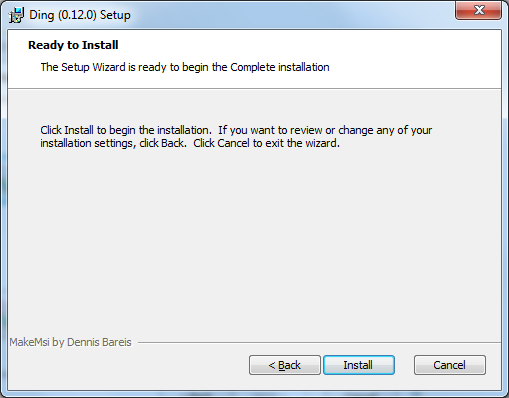 Click "Install" again.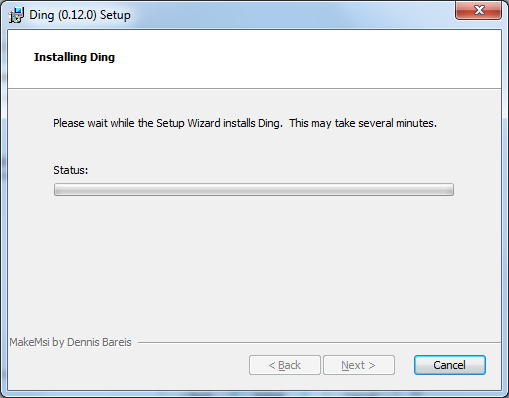 Wait for it to finish.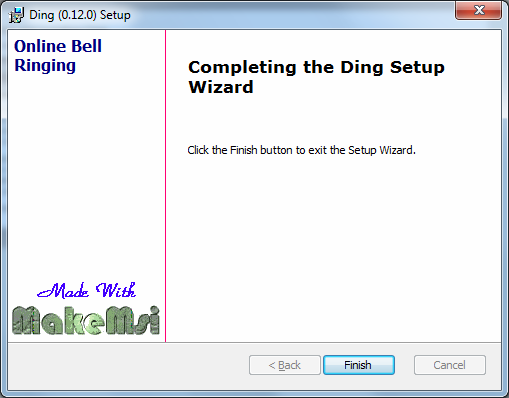 Click "Finish". You should now find the Ding icon on your desktop. Double click it to run it.